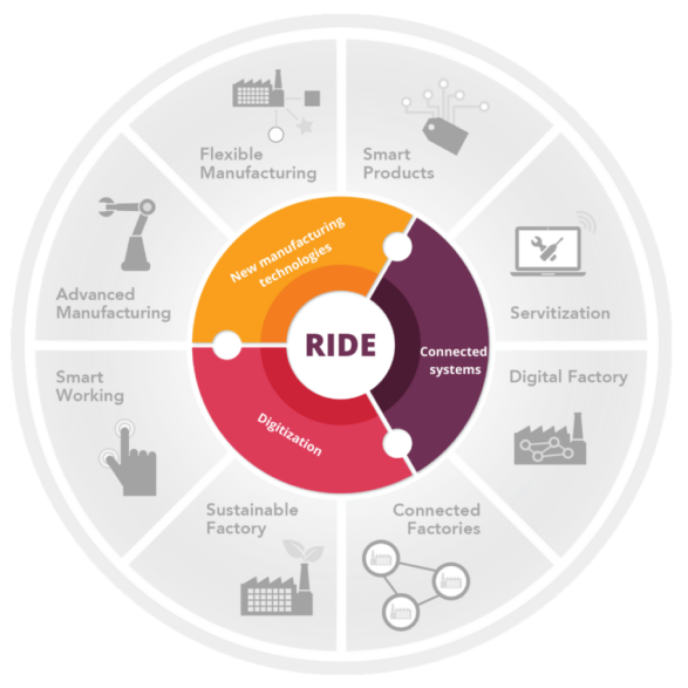 Project Ride
Within the Ride project, ALMI Machinefabriek Vriezenveen B.V. wants to, in collaboration with various project partners, realize the introduction, (further) development, implementation and integration of (far-reaching) automation, robotization and digitization within factories/companies in the East Netherlands metal industry, based on joint knowledge development and investments in the field of new manufacturing technologies, connected systems and digitization. The sub-objectives of the project are:
The stimulation and realization of digitization steps so that (SME) companies in the metal industry utilize the possibilities and opportunities of digitization;
Knowledge assurance and further development of shared facilities; Increasing the sustainability (long term) of the above steps and realizing a more flexible, robust and smarter value chain by connecting external SMEs from the region.
In addition to ALMI Machinefabriek Vriezenveen B.V., the other participants in this project are Stichting Laser Application Centrum (LAC), Aebi Schmidt Nederland BV, Gunnebo Doetinchem BV, Pan Oston BV, Contour Covering Technology BV, Stichting Regional Opleidingencentrum van Twente, Breman machinery BV, Broshuis BV, Evers Agro BV, Dulasta Metaalbewerking BV, Hoopman Machines BV and Schouten en Visschers' Metaalwarenfabriek BV.
Ride is co-funded as part of the Union's response to the COVID-19 pandemic.